2010-2011 FELICITA
Felicita 展
한계를 넘어서는 초과의 영역 -이선영(미술평론가)
전시서문 중에서
황지현 작가의 작품에서 인간은 자세하고 구체적인 모습이 아니라 상징적으로만 나타나지만, 자연은 미시적 차원까지 자세하게 재현된다. 보통 상징주의는 대립 쌍에 기초하고 있지만, 그녀의 작품 속 상징주의는 대립에 기초한 고정된 상징성이 아니라, 차이를 보유한 다양한 울림을 향한다. 종합보다는 차이의 위험을 무릅쓰는 황지현의 작품 속에 나타나는 타자와의 사랑은, 개인을 특정한 모델로 제조하는 사회적 기계로 환원하지 않는다. 구별되는 여러 범주들과 차원들은 완전히 지워지지 않은 채 그 위로, 또는 그 사이사이로 가로지르는 힘들을 드러낸다. 동일자는 타자들에 의해 내맡겨지고, 그것은 내 안에서 타자가 통과함, 들어옴, 나감, 머묾이다. 이러한 우글거림은 불안스럽게 보일 수도 있다. 그러나 황지현은 이러한 침투성과 비(非)배제성을 위협으로 간주하지 않으며 양껏 허용한다. 그것은 파괴가 아니라 경이로운 확장의 계기이지만, 이 같은 열림은 위험하기도 하다. 위험을 무릅쓰는 것은 수천의 변화를 이루는 복수화를 위한 것이다. 이러한 복수화의 도정에서, 화면에서 출몰하는 폭발적인 힘은 거대한 하나의 흐름에 합류됨 없이 각각의 자리에서 둘러쳐진 크고 작은 경계 들 위에서 활동한다. 그것은 흘러넘침과 갈 곳이 명확치 않은 방황에 가깝다.
황지현의 작품에는 다수로 존재하는 경이로움이 있다. 변화 중에 있는 자신은 모든 살아있는 것과 접목된다. 이러한 접목은 통합이 아니라 느슨한 확산이며, 하나의 선적 흐름을 벗어난다. 그것은 자기동일성에 집착하지 않는 분산의 힘이며, 욕망할만한 타자가 되는 능력이다. 이 힘은 조용히 기화되면서 빈 공간을 가득 채우거나 바람으로, 향기로, 목소리들로 변주되며, 어떤 시점에서 격류들로 폭발하곤 한다. 그것은 정지와 정체에 저항하는 욕망의 흐름이다. 이러한 흐름에서 자연의 다산성과 상상력을 중첩시키는 작가의 선택은 설득력이 있다. 그것은 끊임없이 희소성의 가치를 꾸며내어 끝없는 소유의 경쟁을 야기 시키는 절약의 경제에 반대된다. 풍부함과 다양성의 가치는 추가 항목들을 아낌없이 나열한다.황지현의 작품은 동질성을 초과하는 몫, 그 이질성들에 자기의 자리를 내준다. 향락은 고정된 가치에 기초한 소유관념을 초과한다. 무한한 자연과 상상력처럼 고갈을 모르는 근원들에 젖줄을 대는 그녀의 방식은 유동적이고 복합적이며, 끝이 없다.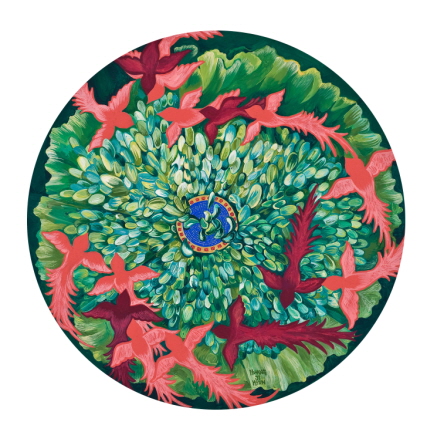 The Forest of Magic-2 Acrylic on Canvas 60x60cm 2011.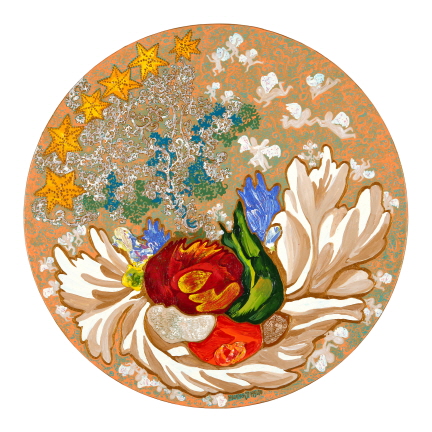 Sweet Comfort Acrylic on Canvas 40x40cm 2009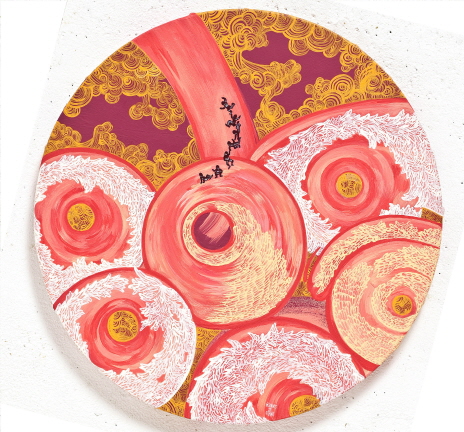 You're not alone Acrylic on Canvas 40x40cm 2010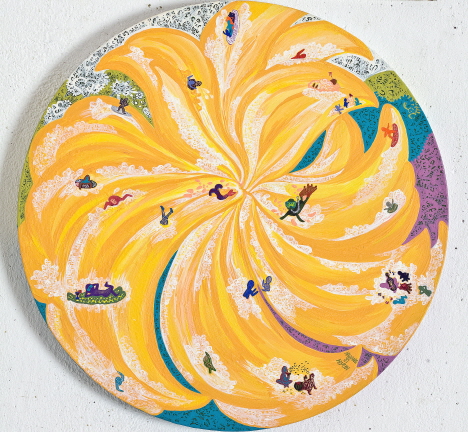 Banana Festival Acrylic on Canvas 40x40cm 2009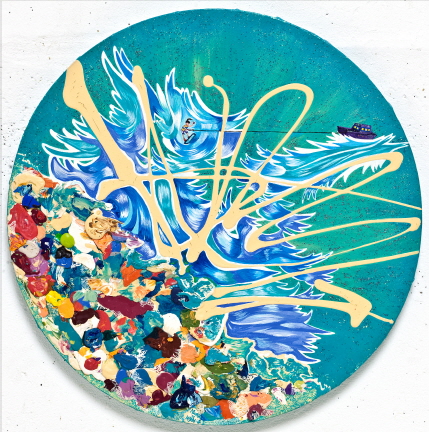 You can do it! Go for it! Acrylic on Canvas 40x40cm 2010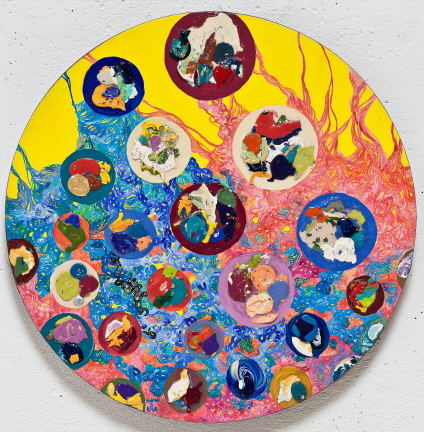 Sea of heartbreak Mixed media on Canvas 40x40cm 2010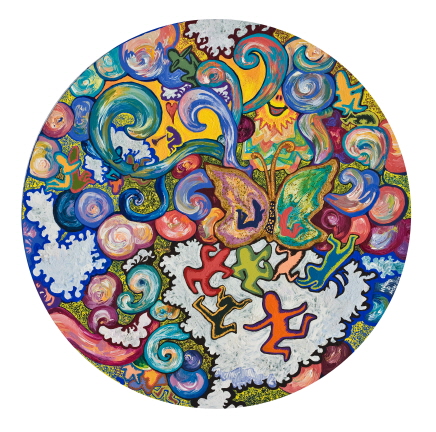 Thank you for my life Mixed media on Canvas 40x40cm 2009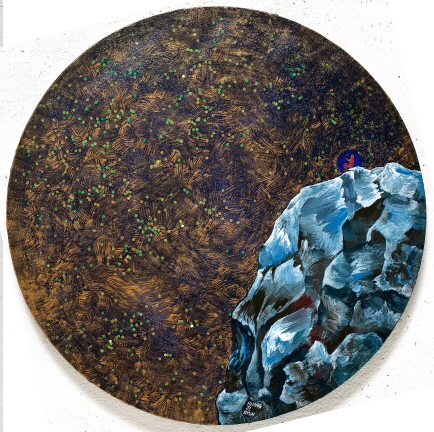 Missing you Mixed media on Canvas 40x40cm 2010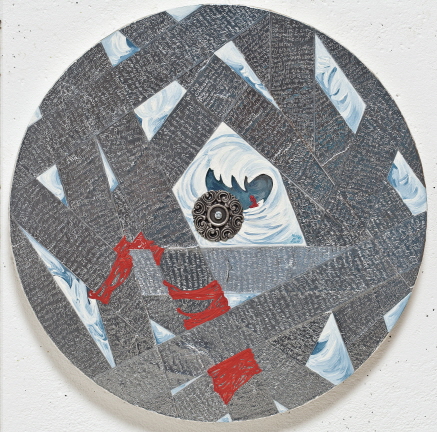 Rescue me Mixed media on Canvas 40x40cm 2010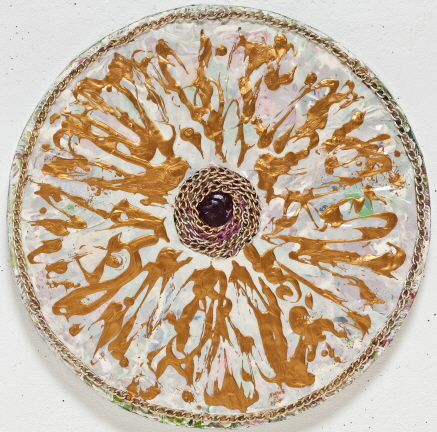 Special Day Mixed media on Canvas 40x40cm 2010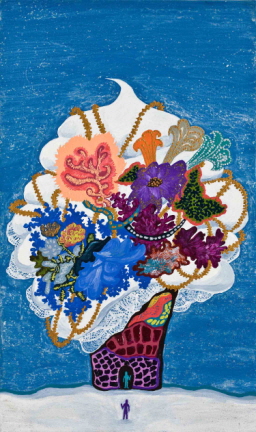 Nature Paradise-Ice cream Mixed media on Canvas 46x34cm 2009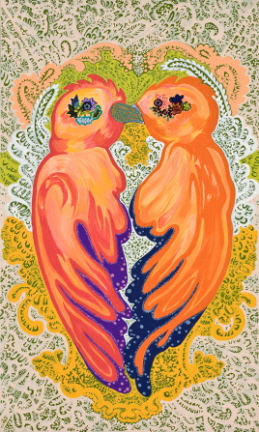 Nature Paradise-Lovers Mixed media on Canvas 46x34cm 2009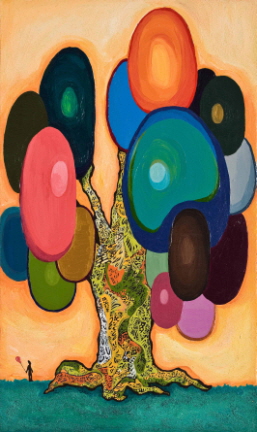 Nature Paradise-In my dream Mixed media on Canvas 46x28cm 2009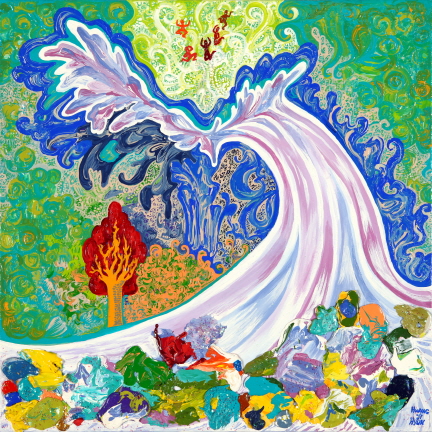 Dazzling Wave Acrylic on Canvas 30X30cm 2009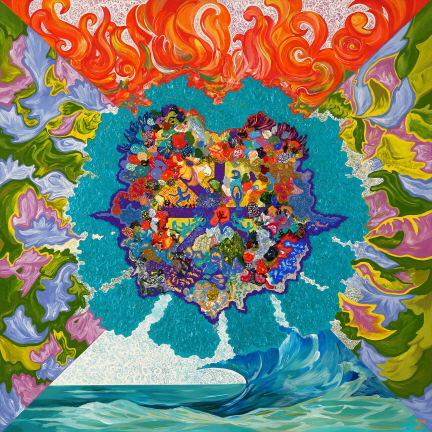 Nature-The absolute energy Acrylic on Canvas 100x100cm 2009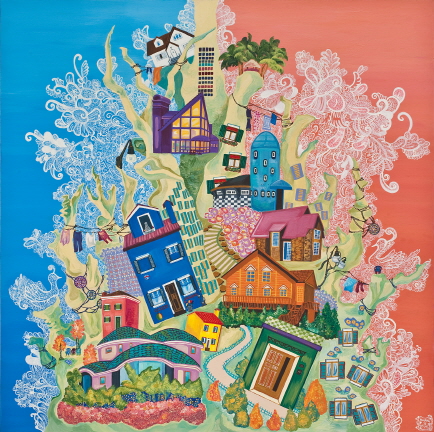 Sweet Shelter Acrylic on Canvas 100x100cm 2010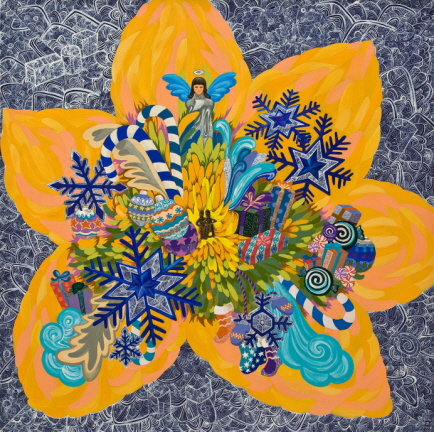 Blessing day Acrylic on Canvas 100x100cm 2009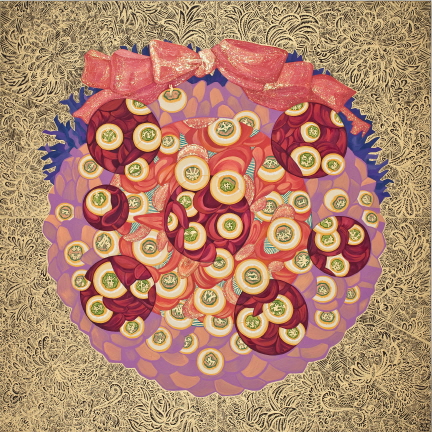 Would you be my girl? Acrylic on Canvas 100x100cm 2009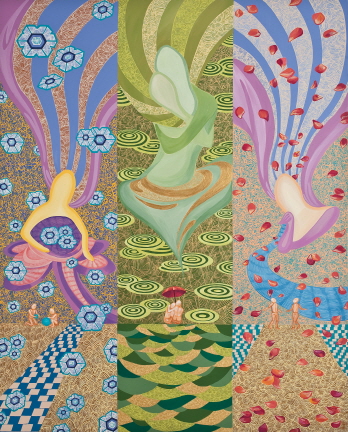 Felicita-If we are together Acrylic on Canvas 130x162cm 2010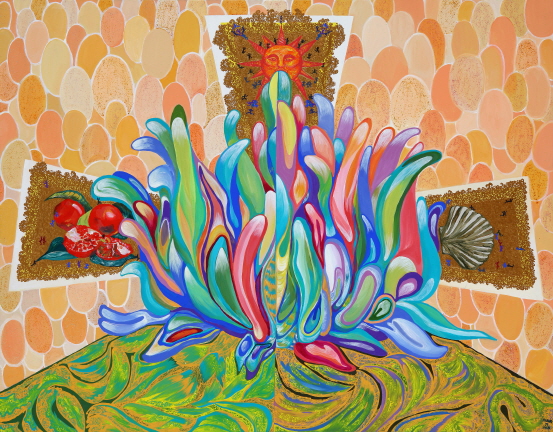 What is Love-Women Acrylic on Canvas 117x91cm 2009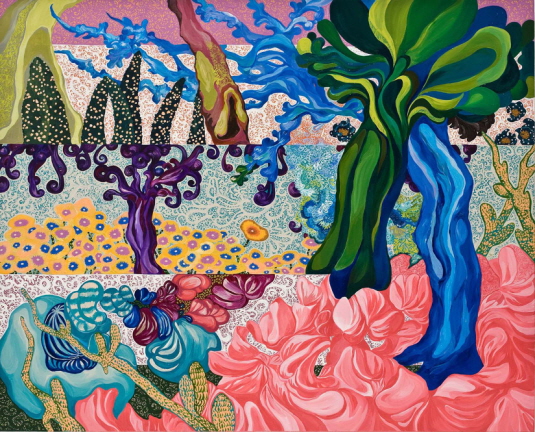 Vivid Spring Acrylic on Canvas 100x80cm 2009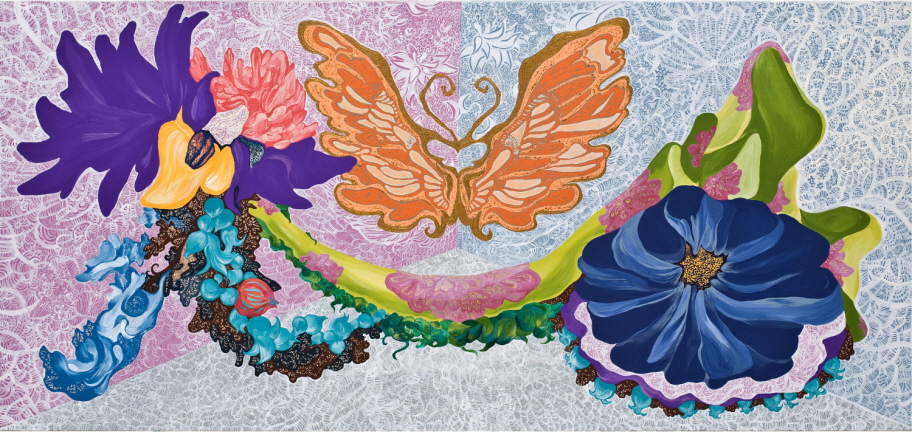 Nature Paradise Acrylic on Canvas 70x150cm 2009